A multicloud strategy is increasingly common among organizations that make use of public and private clouds.
The latest research by VMware shows that 80% of businesses have a distributed model for cloud applications across private, public, and edge environments.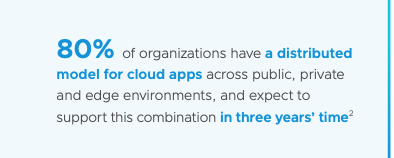 According to this research, over half of the organizations dramatically increased their reliance on distributed processes due to COVID-19.
This led to a clear expansion in core cloud and modern app investments, as well as a shift in IT operations.
With this digital transformation ongoing towards a remote cloud-first IT landscape, we've observed also an escalating trend in data security topics that can undermine business continuity.
In fact, in a 2022 report from Confluera Inc with an inquiry made to 200 U.S. IT leaders from medium to large-sized organizations:
63% identified cyber threats designed to target cloud services as the top obstacle to their cloud strategy.
Organizations need to ensure their operations can continue regardless of unpredictable events, like data loss, security breaches, or even natural disasters.
For decades, enterprises have used redundancy to ensure effective data management.
Therefore, to mitigate any risk, they must not rely on a single provider.
Multicloud storage combines the services of various cloud storage providers into a single architecture.
Businesses can merge public cloud-native services, managed service providers, and third-party solutions into a single multi-cloud environment.
Cloud storage deployed across various clouds can increase flexibility and data protection by data distribution across multiple, isolated locations and mitigate the risk of vendor lock-in.
In this article, we will discuss multicloud storage, the use of multicloud storage services, its benefits, and its challenges.
Let's get started!
Multicloud Storage: a definition
Multicloud is a superset of multiple cloud storage of computing services.
A multicloud deployment model depends on the use of one or more public cloud service providers for storage or computing resources, independent of the use of private cloud or on-premises data centers.
Organizations use a multicloud architecture for distributing computing resources and reducing the risk of data loss and downtime.
They can increase the storage and computing power available to a business.
In recent years, cloud modernization has resulted in a shift from single-user private clouds to multi-tenant public and hybrid clouds.
It ends up being a heterogeneous environment that uses different infrastructure environments, like public or private clouds.
Multicloud storage allows organizations to run any workload, from production databases to backups to virtual machines.
Businesses can move their data seamlessly between data centers and suitable cloud service providers.
Multicloud intelligent storage allows organizations to run legacy enterprise data and applications without requiring being re-written for a cloud-native environment.
Which are the Multicloud Storage features?
Multicloud storage provides several features and capabilities to make their user experience efficient and reliable.
Here are some of the most common features of multicloud storage:
Searchable data – Metadata search capabilities to find data, independently of its location.
Data freedom – Support for multicloud storage service regardless of the interfaces and APIs used to access these services. In simple words, an abstraction layer between the proprietary APIs and data is used to place it in a provided cloud storage service.
Open and accessible – It provides the ability to translate data into a native format of a given cloud storage service. In this way, data remains accessible to any system.
Scalable architecture – It provides a highly scalable and available architecture to support cloud-based and on-premise applications.
Data lifecycle management – It provides an extensible data workflow engine supporting full data lifecycle management abilities



Which types of Multicloud Storage services exist?
Multicloud storage combines the services of multiple cloud service providers into a single architecture.
Organizations can merge native cloud services, marketplace storage services, Managed Service Providers (MSPs), or Cloud Service Providers (CSPs) into one multicloud environment.
1. Native cloud services
These services are provided directly by cloud service providers, such as AWS, Microsoft Azure, and Google Cloud Platform.
These platforms generally include support for object, file, block, and database storage.
Cloud-native is a paradigm for developing and running applications that incorporate technological trends, such as containerization, microservices, serverless, and cloud computing.
2. Marketplace storage services
These include third-party services provided by cloud providers' marketplaces.
These are generally pre-built virtual machine images or applications that one can then deploy.
Organizations can store their applications and data on multicloud marketplaces to manage the business in a single place.
3. Supplier-integrated services
These include Cloud Service Providers (CSPs) and Managed Service Providers (MSPs).
Supplier-integrated services generally provide performance improvements and extra features compared to native services.
Which are the main benefits of Multicloud Storage?
The underlying value of a multicloud approach to organizations is that it prevents performance problems, cloud vendor lock-in, unnecessary costs, or other issues that could undermine business continuity.
Here are some benefits that multicloud storage provides to any organization:
1. Increased data protection
If a multicloud approach is put into place, any data breach only affects a limited amount of data as data and applications can be separated across different services.
It allows you to isolate attacks easily and store data backups securely and reliably in remote locations.
2. Multicloud security
It's challenging to keep consistent security policies across cloud service providers.
The complexity of multicloud can result in increased attack surface and contribute to security holes.
However, a managed approach enables IT teams to deal with potential security risks.
The best multicloud management platforms provide features like security monitoring and automation with the ability to enforce security policies across the cloud platform.
It significantly reduces security risks to multicloud infrastructure.
3. Increased availability
Availability is one of the most common advantages that organizations seek while pursuing a multicloud strategy.
However, to reap the full benefits of a multicloud environment, IT teams need to duplicate and migrate workloads seamlessly when one environment fails.
An efficient multicloud management ensures that data is available and retrievable if something goes wrong.
4. Increased flexibility
Leveraging storage services from different cloud vendors allows you to avoid vendor lock-in and enhances data durability using duplication.
Merging cloud services also provides greater access to specialized, proprietary services.
5. Cost management
Multicloud storage is a cost-effective solution.
Many organizations adopt a multicloud storage service to get benefits of cost savings and discounts offered by cloud service providers.
It's easy to lose track of costs in a highly complex cloud environment.
However, multicloud cost management helps your company keep track of costs, and some platforms use intelligent data analysis tools to improve cost management.
Which are the challenges of Multicloud Storage?
While multicloud storage provides a lot of benefits, it also comes with some challenges to protect, manage, and deploy storage in a unified way.
Here are some challenges associated with multicloud storage:
1. Cloud services integration
The different systems making up a multicloud infrastructure should communicate seamlessly, so data can move securely and effectively across the environments.
However, cloud service providers leverage diverse methods and programming languages, offering different APIs that can contradict each other.
This complexity makes it difficult to manage and connect systems in a unified way.
IT professionals should evaluate tools provided by cloud platforms and their limitations to avoid these issues.
2. Management complexity
As organizations use more cloud environments, management tasks will become more complex.
This issue lies in the diversity among cloud service providers.
Each public cloud provider has its unique processes to manage its environment.
To ensure visibility across cloud environments is needed a centralized federation and monitoring of services, such as identity and access controls.
Cloud services are likely to have increased vulnerability and configuration errors or differences without centralization.
3. Data network latency
A multicloud strategy relies heavily on network speed to provide a good experience.
If network connections are slow or unreliable, this can lead to performance issues that can affect data migration time to a multicloud environment.
4. Need for qualified professionals
Maintaining a multicloud architecture is a complex task.
To ensure that everything runs smoothly, organizations need to make sure that their teams have the skills needed to manage these integrations and systems.
Finding professionals in these areas can be demanding, and could add even more costs to the IT budget.
How can organizations overcome Multicloud Storage challenges?
Since organizations and their IT solutions are now cloud-native, security and privacy are topics that should be accounted for, especially in the context of storing critical data.
More than ever before, IT Managers are seeking solutions that take into consideration these topics, as well as allowing seamless integration between different clouds, reducing complexity.
That's the main idea of the concept de "cloud of clouds".
A cloud-of-clouds is a dependable and secure storage system that leverages the benefits of using a combination of diverse comercial clouds into one solution, creating a virtual storage cloud.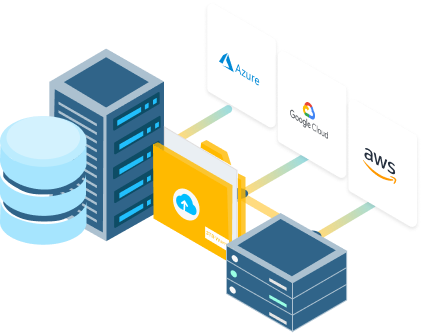 This concept addresses four main limitations of cloud computing for data storage:
Availability: When data is moved from the company's network to an external data center, it is inevitable that service availability is affected by problems on the network. Cloud outages or denial-of-service attacks can also affect cloud services.
Data loss or corruption: Byzantine fault-tolerant replication to store data on several cloud services, allowing data to be retrieved correctly even if some of the clouds corrupt or lose it.
Privacy: cloud providers have access to both the stored data and how it is accessed. The provider may be trustworthy, but malicious insiders are a widespread security problem, and this is a special concern with critical data like medical records.
Vendor lock-in: The concern that the coupling between the customer and the provider becomes so high to a point that it becomes economically inviable to move from one provider to another.
Vawlt is a solution that addresses all these challenges, simplifying the transition to the cloud, while improving data security standards, and optimizing usage of storage resources.
As a cloud-of-clouds solution, Vawlt allows users to seamlessly create customized virtual storage volumes, and efficiently reduce costs when they need a large amount of data storage.
Moreover, the zero-knowledge encryption and fault-tolerance capacity from Vawlt assure your organizations' data security and availability.
Which storage solution do you use in your IT infrastructure?
We would like to hear from you!
Join our Reddit community and stay up to date with the latest resources and articles.