The new year starts with great news for our users — version 2.1 is now available and ready for download! Let's take a look at the latest features in a glance:
With Wasabi in place, you have more options than ever to find the most optimized multi-cloud solution. All of this without compromising reliability or resiliency.
Likewise, our users can now use their cloud accounts and/or their on-prem nodes within our Dynamic Storage Platform. Again, this means previous investment capitalization and data control while making the most of security and reliability.
Vawlt is more adaptable than ever to your data storage strategy requirements, allowing you to focus on what matters the most: your business continuity. Let's dig deeper.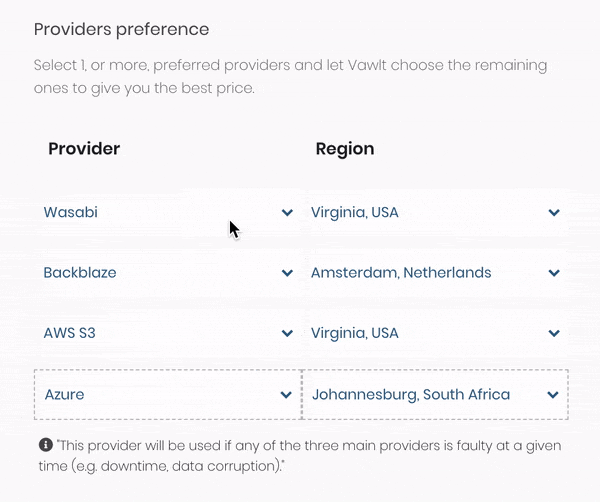 Wasabi: a new public cloud provider
When creating new storage volumes through Advanced Mode, you can select the cloud providers you want to work with, as well as the data centers' geographical location.
Wasabi is an object storage service provider based in the United States and is now available in the Vawlt public clouds pool.
They have data-centers available on three continents: Europe (London and Amsterdam), North America (Oregon, Texas, and North Virginia), and Asia (Tokyo and Osaka).
This new cloud provider is available for Warm, Immutable, and Archival volume types.
Introducing Custom Nodes
Custom Nodes allow users to specify their cloud provider accounts and on-premises storage solutions to be used in Vawlt's volumes.
This feature allows users to leverage their existing storage resources while taking advantage of Vawlt's state-of-the-art security and technology.
This also allows companies to control storage costs and have greater autonomy in their infrastructure without compromising security.
It's possible to create two types of custom nodes: public clouds and on-premise.